Having already climbed from the position of secretary to become the first female CEO to lead a Fortune 20 company, Carly Fiorina is embarking on a quest for her highest office yet. Here are six facts you may want to take into consideration before deciding on who to support:
1) Carly Fiorina - ideologically smack-dab in the middle of the Republican party. Having never held elected office, what do we know about her ideology? We used our objective Crowdpac scoring method, which uses political contribution patterns since 1980, to place her along a liberal-conservative spectrum and see where she stood in relation to the other candidates. It turns out that Carly Fiorina, a 6C, is right on the republican average, flanked by Bush and Rubio, providing an interesting alternative for conservative voters not fully convinced by Bush's moderation, or by the very conservative Cruz and Paul. She also occupies a similar space within the conservative spectrum as Hillary Clinton does on the liberal end.
To see details on Fiorina's campaign contributions and her stances on issues, check out her Crowdpac profile.
2) The President of the United States is the most important and powerful manager in the world. So how does Carly's experience stack up? As CEO of Hewlett Packard, Carly managed an operating budget of $68.5 billion dollars and a workforce of 143,000 employees. How does this compare with...say...the U.S. State Department? See for yourself: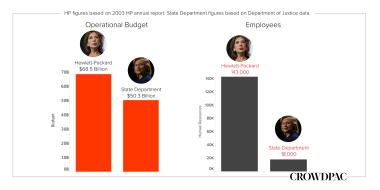 3) One of the most important tests a candidate faces is fundraising. But having never held elected office, you may be wondering if Carly can raise the cash needed to run for President. We took a look at the committees associated with her unsuccessful 2010 bid for U.S. Senate and Unlocking Potential PAC, and found that when it comes to fundraising, Fiorina is formidable.
4) Candidates are often defined on the trail by what they say (or don't say). We analyzed Carly's speeches from the 2015 Conservative Political Action Conference, Iowa Freedom Summit and New Hampshire Republican Leadership Summit to give you a sense of the top words and phrases she uses on the stump.
5) When it comes to politicians who hold office, who most closely matches Carly on the issues? According to Crowdpac scores, Carly's political twin is none other than Congressman Darrell Issa (R-CA).
6) And according to her Crowdpac score, Carly's celebrity twin is Academy award-winning actor Jon Voight, who happens to have played President Franklin D. Roosevelt in the movie Pearl Harbor.
Things are heating up in the 2016 presidential race. The crowded republican field has been dominating the news, but how are the Democrats doing? How much do you know about the newest blue contender, Senator Bernie Sanders? Here's 7 things you may not have expected.