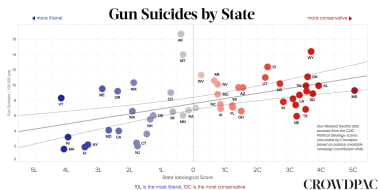 Here's another look at gun deaths by suicide, this time by major metropolitan areas:
While this data adds further complexity to the debate on guns, it should also shape the debate over mental health in America. And no matter where you stand on these issues, there's one thing we should all agree on - policy issues are always more complex than they appear on the surface.
Where do you stand on the gun debate? Are you a proponent of gun control, or are you a defender of the second amendment? Wherever you stand, you can make yourself heard by supporting the candidates below.