Arnold Schwarzenegger, the prolific actor, bodybuilder, businessman, and former Governor of California, turns 68 years old today. Schwarzenegger began his political career as chairman of the President's Council on Physical Fitness and Sports under George H.W. Bush. In 2003 he announced his candidacy for the Governor of California during the recall of then-Governor Gray Davis. He won the election by over one million votes in a crowded field that included actor Gary Coleman, media mogul Arianna Huffington and porn star Mary Carey.
While in office, Schwarzenegger was a moderate who often reached across the aisle to build legislative coalitions. In a particularly bold move, Schwarzenegger appointed Susan Kennedy, a Democrat, as his Chief of Staff. While Schwarzenegger's approval ratings reached highs of over 80%, they also dipped to lows under 30% at the time of his departure.
Regardless of your feelings about The Terminator, Schwarzenegger's legacy as an Austrian-born immigrant who rose to political prominence is one worthy of recognition.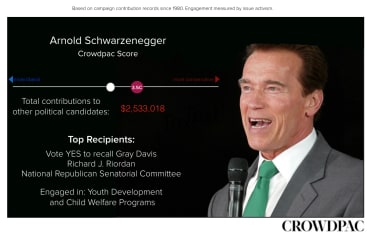 According to our analysis of his contribution records, Arnold is a center-right conservative with a Crowdpac score of 3.5C. Though he has been loyal to his party with contributions to the National Republican Senatorial Committee, he has also engaged in traditionally left-leaning advocacy. For example, Schwarzenegger was part of a campaign to provide after school programming for California children, and as Governor signed first-of-it's-kind legislation in California aimed at drastically reducing greenhouse gas emissions.
Interested in more background on American political leaders? Check out our exclusive Crowdpac 2016 race page.