Hope, Arkansas has already produced one unlikely U.S. President in Bill Clinton. And in 2008, it came close to producing the Republican presidential nominee when Governor Mike Huckabee won the Iowa Caucuses by staging an insurgent grassroots campaign in the Hawkeye State. But can Huckabee's brand of evangelical conservatism help him catch lightning in a bottle twice? We researched some key data points to help answer that question.
1) Huckabee, a former Baptist Minister, talks openly about his faith and has received significant support from the evangelical community. According to campaign finance reports, Huckabee has received more contributions from individuals affiliated with religious groups than most of his would-be competitors. Huckabee also mentions "God" far more than most other candidates, both on social media and in speeches (see the word cloud of his major speeches below).
2) Where does Mike Huckabee stand politically? As a 6.2 C, he occupies a space at the heart of the Republican electorate and just to the right of the average score for all Republican federal office-holders (which is 6C). Huckabee will likely need to compete with Marco Rubio, Ben Carson, Carly Fiorina and Scott Walker for this same slice of the conservative electorate.
3) As the national conversation surrounding criminal justice reform hits fever pitch, the number of pardons and commutations issued by Huckabee as Governor of Arkansas is likely to get some fresh attention. While in office, Huckabee issued 1,058 pardons and commutations, which is more than twice the number granted by his three immediate predecessors combined (including President Clinton).
4) But what about money? In 2008, Huckabee's campaign was significantly under-resourced, which limited his ability to compete in primary states beyond Iowa. In order to remain competitive, he will need to surpass his fundraising hauls in previous elections, which pale in comparison to some of his current, and likely, competitors: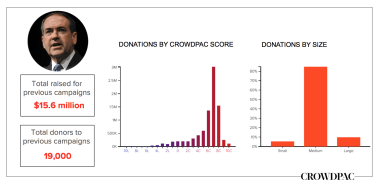 5) Governor Mike Huckabee has been out of office for quite some time. So who in Congress most closely mirrors his politics? According to our objective Crowdpac scoring method, which analyzes political contribution patterns since 1980, Huckabee's congressional political twin is Senator Mike Enzi (R-WY), also a 6.2 C.
6) And according to their Crowdpac scores, Governor Mike Huckabee's celebrity twin is award-winning acting legend Kelsey Grammer, who played the President of the United States in the 2008 comedy Swing Vote.
Huckabee is joining an increasingly crowded presidential field on the republican side. How well do you know his contenders? Here's a few things about Carly Fiorina you should know before making a decision.