Both the Senate and House are Republican-dominated, but is one more conservative than the other? We looked at the average of the Crowdpac scores for all members in each chamber and found the following results.
With its members' scores averaged, the House ranks as a .8C. The Senate is a .2C.
We narrowed this search to the most extreme state delegations in each chamber. The Representatives from Wyoming topped the list with an aggregate Crowdpac score of 7.9C. They are followed by the Reps from Kansas, the Senators from South Carolina, and both the House and Senate members from Utah.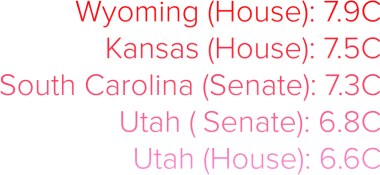 On the other side, the Representatives from Vermont rank as the most liberal with a collective score of 7.6L. The Senators from Hawaii, New Mexico, and Minnesota follow, with the Hawaiian House members rounding out the top five most liberal delegations.
Interested in more Congressional data? Check out our article on the richest and poorest members of Congress!