Not being beholden to special interests has been a centerpin of Donald Trump's campaign. The GOP nominee has often touted his self-funded status, but that seems less and less to be the case. His insurgent candidacy has brought a new generation of high-dollar supporters to the Republican Party. Among these, seven have already given the maximum $449,400 to the Trump Victory Fund, a joint fundraising committee between Donald Trump's campaign, the Republican National Committee, and 11 state parties. The donations are the largest amount ever solicited by such a group, surpassing the $356,100 checks sought by Hillary Clinton and the Democratic National Committee.
Compared to the top backers of Mitt Romney in 2012 and John McCain in 2008, Trump's mega-donors have almost no history of large political donations prior to 2015. As the old guard remains hesitant towards Trump, and big names such as the Kochs have largely fallen out of relevance this cycle, this new circle of elites brings in an intriguing mix of pet causes and interests.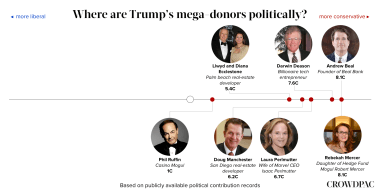 1. Andrew Beal: Dallas banker, founder and chairman of Beal Bank, Beal Bank USA and Beal Aerospace, Beal is most notable for his active support of STEM education and engineering competitions. His first major campaign contribution occurred in March 2015, when Beal Aerospace gave $33,400 to the Libertarian National Committee. Since then, Beal has also contributed to Senators John McCain (R-AZ) and Roy Blunt (R-MO), as well as to Representative Joe Heck (R-NV03).
2. Darwin Deason: gave extensively to Gov. Rick Perry's presidential campaign in 2015, including a $5 million contribution to the Opportunity and Freedom I super PAC in June last year. The former technology entrepreneur also donated $200,000 to a super PAC supporting Texas Senator Ted Cruz and $400,000 to Koch organizations. Like Beal, Deason made almost no political contributions until 2015.
3. Llwyd and Diana Ecclestone: The Palm Beach real-estate developers gave extensively to the Republican National Committee since 2015, with their combined contributions totalling $216,800. Notoriously private, Ecclestone is best known for developing PGA National in Palm Beach Gardens.
Which candidate would you endorse?
4. Rebekah Mercer: the daughter of hedge fund billionaire and GOP megadonor Robert Mercer, Rebekah manages the Mercer Family Foundation in New York City. The Foundation provides grants public policy, higher education, and technology, including to conservative think tanks The Heritage Foundation and the Heartland Institute. Mercer gave $334,000 to the Republican National Committee in June 2016, as well as $10,000 to the New York Republican Federal Campaign Committee in April.
5. Laura Perlmutter: the wife of Marvel Entertainment chief executive Isaac Perlmutter, made only one donation to 2016 political candidates before contributing to Donald Trump's joint fundraising committee. In June of 2015, Perlmutter gave $2 million to the Conservative Solutions PAC, which supported the presidential bid of Florida Senator Marco Rubio.
6. Doug and Geniya Manchester: San Diego real estate developers, the Manchesters supported several contenders for the Republican presidential nomination before donating to Trump. These contributions included almost $50,000 to Jeb Bush super PAC Right to Rise USA, and $10,000 to CARLY for America, a super PAC supporting Carly Fiorina.
7. Phil Ruffin: A Las Vegas casino mogul, Ruffin is a long-time friend of Donald Trump, to the point where the Republican nominee was Ruffin's best man at his 2008 wedding. Ruffin was an early contributor to Trump's candidacy, donating $1 million to the original Make America Great Again PAC in October 2015. That contribution was later refunded after allegations that the PAC was too close the Trump campaign. This year, Ruffin has given a combined $182, 800 to the Republican National Committee as well as $10,000 to the Democratic Senate Campaign Committee.
It remains to be seen what these big fish will ask of Donald Trump in terms of policy, but one thing is clear: It is not only mainstream GOP politicians who are in danger of being left behind. There seems to be a changing of the guard in the upper clergy of big conservative donors as well.
Which candidate would you endorse?