After news broke earlier today of an $84M settlement between Uber and the drivers who filed a class-action lawsuit against their employer (or not employer?), one thing seems to have become evident: there is a clear divide between the views of management and employees.
Interestingly, the divide seems to manifest itself in the political views of both groups. Upper management and the business department seem to clearly favor Hillary Clinton.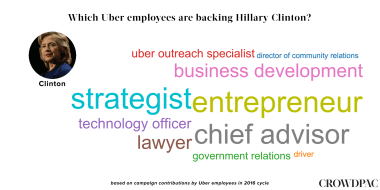 While analysts, coders and most predominantly drivers, tend to overwhelmingly support Sanders.
As the dispute between Uber's management and employees unfolds, the policies of the next President, and whether those will be pro-business or pro-employees' rights, may become a crucial component in what the ultimate resolution of the case will be.
Where do you stand? Are you a Clinton supporter? Or do you want to see Sanders in the White House? Wherever you stand, your money counts just as much as your vote. Make yourself heard by supporting your candidate below!