Unless you're Donald Trump or Hillary Clinton, deeply liberal New York doesn't usually see much in the way of large public campaign rallies and retail stops by presidential candidates - especially Republicans.
However politicians of all stripes can often be found rapping on the doors of Wall Street - holding closed-door meetings and private receptions to raise cash to fund their campaigns. That's why we analyzed FEC data to determine which presidential hopefuls have hauled in the most money from major Wall Street banks and investors.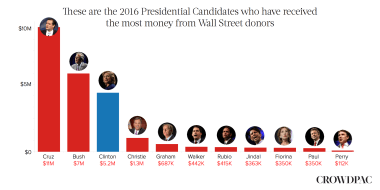 So far, it looks as though Wall Street is bullish on the prospects of Ted Cruz who has taken in over $11 Million from major players in banking and finance - most all of which is from hedge-fund magnate Robert Mercer. The industry is also a big fan of Jeb Bush who has raised over $7 Million from a much broader group.
And at least one of the "wolves of Wall Street" is a woman. Industry players are also hedging their bets with strong support for Hillary Clinton's campaign to the tune of $5.2 Million - a respectable amount for the former Senator from New York.
What return can Wall Street expect on it's investment? Find out where the 2016 candidates stand on Banking and finance on our Presidential Election tool.